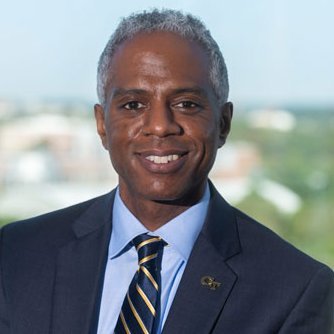 Daren Hubbard
Daren Hubbard is the vice president for Information Technology and chief information officer (CIO) at Georgia Tech. In his role, Hubbard provides vision, leadership, and oversight in the development and implementation of information technology. He is responsible for establishing the strategic direction of information technology resources, including a governance strategy, as well as supporting information users by determining trends and technologies needed to advance the Institute's academic and research mission. With more than 20 years in higher education, Hubbard has leadership experience in application development, project management, and mobile technology. He has also served as chair of Merit Network's board of directors and is an active member of numerous higher education technology advisory groups.
Senior Leadership Team
Didier Contis
Didier Contis is Executive Director of Academic Research Technologies (ART) with OIT.
Katie Crawford
As the Executive Director of Enterprise Applications & Data Management, Katie is responsible for maintaining and improving enterprise applications, data services, and business process improvement and automation services. Within Enterprise Apps, her responsibilities include maintaining and continually improving platforms such as Workday Finance, Banner Student, Research Admin Systems, Distributed Applications, and CRM Solutions (Salesforce). Within Data Services, Katie is responsible for the integration of data through an enterprise data warehouse, establishment of data governance, the creation of data visualizations and reports, and working with systems on integrations and master data management. Through these efforts, Katie's goal is to democratize the data and provide actionable data to decision makers. Within business process improvement and automation, Katie is responsible for collaboration and productivity tools, PowerApp development, robotic process automation and accessibility services. Throughout her portfolio, Katie believes in continuous improvement and partnering with the business to improve tools, processes, and decision making.
Leo Howell
Leo Howell is Chief Information Security Officer (CISO) at Georgia Tech.
Maria Hunter
Maria Hunter is Executive Director of Digital Business for OIT.
Melanie Megenity
Melanie Megenity is the Office of Information Technology's Director of Resource Management. In this capacity, she manages the finance, human resources and facilities functions within OIT. Melanie has been with Resource Management for several years - overseeing central maintenance accounts as well as a myriad of other duties and special projects centered around supporting OIT's financial and business transactions. She has been with Georgia Tech for more than 20 years.
Dwayne Palmer
Dwayne Palmer is the Executive Director of Governance and IT Strategic Initiatives for the Office of Information Technology.  Dwayne is responsible for facilitating alignment between the IT Organization and IT Governance.  In addition, he leads the business arm of IT, which includes Strategic Advisory Services, Portfolio & Project Management, Business Process Management and Business Relationship Management. Dwayne tracks and analyzes metrics of the organization's effectiveness as well as provides governance and decision support for projects.  He has over 20 years of IT experience.
Valeria Roberts
Valeria Roberts is Assistant Director of Human Resources for OIT.
Malynda Dorsey Smith
Malynda Dorsey Smith is the Senior Director of IT Organizational Change Management & Readiness within the Office of Information Technology. Malynda manages messaging strategy for the central IT organization and serves as a liaison with internal and external communications partners as well as other departments/units at Georgia Tech. Malynda​ holds a Bachelor of Fine Arts in Communications with an emphasis in Public Relations, a Master of Public Administration with a concentration in Public Policy & Management, and a Master of Business Administration with a concentration in Information Systems. Her 15-year career also includes experience in journalism, marketing, and media relations.