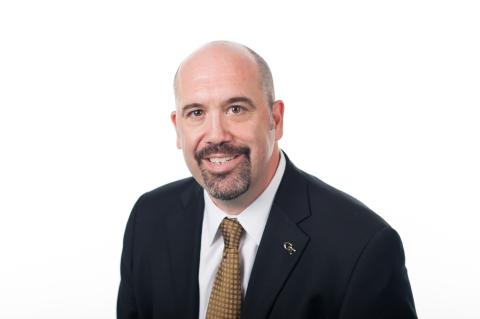 Download image
Jan 21, 2022 — Atlanta, GA
James "Jim" Pete, executive director of Digital Business in Georgia Tech's Office of Information Technology (OIT), will serve as interim vice president of Information Technology and Services and chief information officer (CIO) at Clayton State University, effective Monday, Jan. 31.
Pete's appointment comes following the retirement announcement of Clayton State's current CIO, Bill Gruszka.
"Assisting Clayton State University in this capacity serves as a testament to our great partnership with sister institutions throughout the University System of Georgia (USG)," said Daren Hubbard, vice president for Information Technology and CIO at Georgia Tech. "We are extremely fortunate that Jim was able to answer the call. This appointment supports the Institute's ongoing efforts to fully engage as a strong USG partner and it presents OIT with the opportunity to support the new USG vice chancellor and CIO, Jonathon Piersol, in his efforts to strengthen collaboration between IT units across the system. This is also an excellent professional development opportunity for Jim, as it allows him to gain and apply leadership skills in a different environment and, hopefully, return to Georgia Tech with expanded perspectives."
Pete will report directly to Clayton State's president, T. Ramon Stuart, and serve as a member of the president's cabinet while the university launches a search for a permanent CIO.
"Clayton State University is pleased to welcome Jim Pete to our institution, where he will bring almost three decades of experience in higher education technology services, visioning, and planning," Stuart said. "His leadership is timely to build upon our current infrastructure while enhancing customer service and digital innovation for our faculty, staff, and students."
Pete will serve in the interim role for six months or until the permanent position is filled.
"I am very appreciative of the opportunity to serve as the interim vice president of Information Technology and Services at Clayton State University," Pete said. "I look forward to partnering with President Stuart, the Information Technology and Services team, and Clayton State faculty, staff, and students to position the university for continued success."
Client Services and Support Director Maria Hunter will serve as OIT's interim executive director for Digital Business during Pete's appointment.