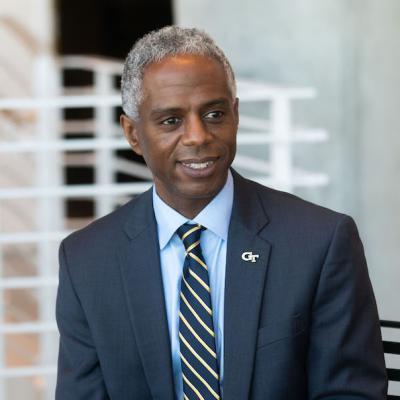 For the Office of Information Technology (OIT), the past semester has been all about shared experiences, shared responsibility, and shared success. As we bring this semester to a close, I am happy to announce that we have concluded the first phase of our strategic planning effort and kicked off a multi-year Data Excellence initiative in support of the Institute's Strategic Plan.
OIT wrapped up Phase I of its strategic planning project in mid-April. This phase introduced a new mission and vision statement, along with new goal statements and objectives that support the Institute strategic themes: Amplify Impact, Champion Innovation, Expand Access, and Lead by Example.
With students, well-being, excellence, diversity, and high ethical standards embedded in all that we do, our team has adopted the following mission and vision statements:
OIT Mission Statement
The Office of Information Technology collaborates with students, faculty, and staff across the Institute to become a trusted partner and service provider to global constituents – delivering human-centric technologies that are reliable, secure, and scalable, and enable the Institute to further its core mission of advancing technology and improving the human condition.

OIT Vision Statement
Over the next five years, the Office of Information Technology will position itself as a trusted provider of enterprise digital services and technology solutions - empowering students, faculty, and staff to address global challenges through the development of science and technology.
Phase II is now underway and charges OIT's senior leadership team with creating a robust implementation plan to address these goals and objectives.
At the intersect of our strategic planning effort is the Institute's Data Excellence Initiative, which charges us with meeting the following Institute objectives:
Be a leader in leveraging data analytic tools and processes to inform decision-making and be an example in the protection, management, and governance of data.

Define and convene an Institute-wide team to finalize and launch a strategy and structure for strengthening data governance and protection.
Since launching Data Excellence last month, a full steering committee has formed and identified six strategy areas that range from data governance and management to security, privacy, and risk to pursue. The committee is assembling working groups to begin the work in each strategy area and will launch projects and customer engagement activities for respective areas in the coming months.
----------------------
If you believe others may benefit from this blog content, please invite them to subscribe so they can be added to the mailing list. In the meantime, please remember to visit my webpage, From the Desk of the CIO, or connect with me any time via Twitter @GeorgiaTechCIO.