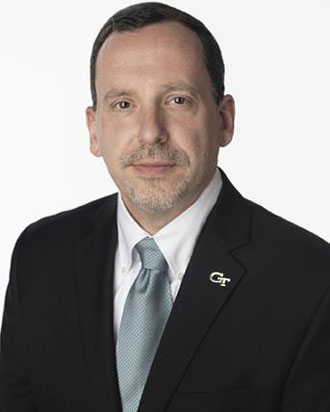 Didier Contis
Didier Contis is the Executive Director of Academic Technology, Innovation, Research Computing for the Office of Information Technology. In his role, Didier provides long-range vision, strategic directions, and support for the research and academic technologies of the Institute by partnering with research and academic entities, and leading and executing the aspects of IT strategy that enable the Institute to achieve its research, teaching and learning, and innovation goals.
He previously served as the Interim Chief Information Security Officer (2021) and led the initial Institute response to the 2021 campus-wide external endpoint audit using the centralized coordination with distributed execution organizational approach. He also served as Interim Associate VP for Data Strategy and Analytics and was a member of the Data Security Task Force appointment (2020), charged with improving campus policies and practices concerning the use and sharing of sensitive data.
Since Fall 2021, he has been co-teaching a Vertically Integrated Project class focused on using data as an asset and is interested in applying knowledge graphs for data analytics. In partnership with the University of Michigan and the New School, Didier advocates for the safe and responsible use of eXtended Reality (XR) technologies in higher education. He has co-taught an Educause Learning Lab on XR Security, Privacy, Safety, and Ethics Considerations in Higher Education.
As the Director of Technology Services for CoE from 2007 to 2022, he established several partnerships with the Georgia Tech central IT organization and other academic units to develop new campus-wide services supporting the educational and research ecosystem, with a strong focus on protecting research data, empowering users, and providing equitable access. Some of these initiatives included the launch of the first large-scale GPU-enabled virtual computer lab to provide students access to scientific and engineering applications irrespective of time, place, and device constraints, and a multi-academic unit partnership to create a federated and distributed private academic cloud, supporting research and instruction.
Didier began his career at Georgia Tech in 1999 as a Research Engineer in the School of Electrical and Computing Engineering, focused on Cyber Security, HPC, Unix, and Networking, as well as contributing to research projects on hardware platforms for Network Intrusion Detection and Prevention. In addition, he partnered with faculty to get a grant from Cisco Systems and create the first hands-on network security laboratory. He also was the IT Manager for the School of Civil and Environmental Engineering from 2004 to 2007. Didier holds a Master of Science degree in Electrical Engineering from the Georgia Institute of Technology and a Diplôme d'Ingénieur (Bachelor) from the École des Mines de Nantes in France.
Related Links