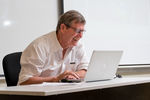 Dec 13, 2021 - Atlanta, GA
As a component of Georgia Tech's Endpoint Compliance Campaign, the Office of Information Technology will sunset the Cisco AnyConnect-based virtual private network (VPN) service at the end of the academic year. Users are being asked to transition from AnyConnect to the GlobalProtect VPN service in a phased approach.
GlobalProtect is a client and clientless-based remote access VPN solution, which offers a higher capacity and higher performance VPN solution.
Phases for the transition are as follows:
IT Community: Nov. 2, 2021
Faculty/Staff/Employees: Dec. 21, 2021
Students/Other Users: May 10, 2022
Access to Cisco AnyConnect VPN for faculty and staff will be disabled on Tuesday, Dec. 21. Before this time, Georgia Tech employees are encouraged to install and begin using GlobalProtect VPN offered at vpn.gatech.edu. Instructions can be found at KB0026837.
If you require assistance or have any issues with GlobalProtect, please submit a Technology Help Request.