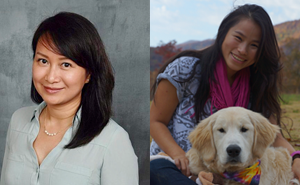 May 03, 2021 - Atlanta, GA
Nationally observed in May, Georgia Tech celebrated Asian American and Pacific Islander (AAPI) Heritage Month throughout April - recognizing the contributions and influence of Asian Americans and Pacific Islander Americans to Georgia Tech's rich history, achievements, and advancements.
The Office of Information Technology (OIT) joined the Institute in its reflection of AAPI heritage across the IT community -  celebrating how daily choices, actions, and relationships are shaped through their voices and inclusion.
"I love celebrating true friendship and relationships within the IT community," said Nan Deeprasert, systems support engineer senior within OIT. "A lot of us come from different backgrounds, cultures, and technology fields. I have learned from working with the IT community that we are all the same: loving, caring, and thriving. To be able to share different points of view as an Asian/Pacific American person, while overcoming challenges to accomplish the same goals with everyone else, makes me feel stronger and helps us create a more unified community."
Georgia Tech's monthlong celebration highlighted the importance of recognizing and rewarding the technological contributions of the AAPI community. Dr. Fang "Cherry" Liu, a research scientist with the Partnership for an Advanced Computing Environment (PACE) and adjunct associate professor at Tech, shared her thoughts on why this is critical in IT.
"I would like to say Asian Americans have been diligent and innovative workers for a long time, and we have made significant contributions to society," said Liu. "However, the recognition of and reward to Asian Americans are far below our contributions. We would like to be treated more fairly in terms of our voice being heard, career development opportunities, and providing more leadership opportunities - especially for Asian American and Pacific Islander women in IT."
Institute-wide AAPI Heritage Month activities were hosted by the Office of Student Diversity Programs. To learn more about the AAPI Heritage Month celebration at Georgia Tech, visit https://b.gatech.edu/aapi-heritage.